Ok, I might post the post I wrote and forgot to link up with
Becky
. Not going to forget to link up this time!
1. Tell us what you are looking forward to this fall?
So I know everyone is so ready for fall. I'm not. I haven't pinned any fall outfits. I have let our summer crab picture stay hanging. All I am looking forward to is our 2nd annual kiddo halloween party :)
2. Show us your fall style.
brown boots and a cardigan
3. Tell us your favorite things to do in the fall. If you have children, activities to do with the kids?
I love going to the pumpkin patch, carving the pumpkin, taking Chase to trick or treat and passing out candy.
4. Show us your favorite fall beverage.
apple cider. Might have to try this
spiced cider recipe
!
5. Tell us, how you will be participating in halloween this year. Plans? Costume ideas?
As I mentioned earlier, we will be having our 2nd annual kiddo halloween party. I may have already bought Chase's costume.
The adults don't dress up. I still need to get him some Halloween pjs for answering the door in.
I also told you I'm going to be participating in
Shannon's
challenge your closet.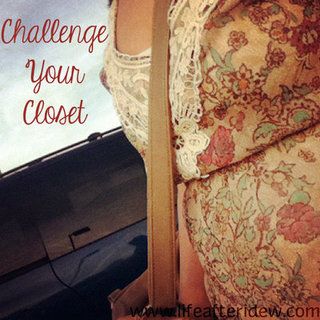 So, first, I washed all my clothes, organized them by things I can where to work and casual and turned the hangers around. I took a before picture because I'm thinking a lot of that will not get worn and will be donated.
(I thought I had hung up all my clothes but I had another laundry basket full! This isn't my jeans or dresses either!)
I realized when I was doing this that I am not a wear a dress to work kind of girl.
Shannon's challenge was inspired by
Kate at the small things
doing a 30x30 challenge. I thought about doing a 30x30 challenge but realized I have no cute jewlery :( So my challenge is to wear it or donate it for now.
Outfit #1
Outfit #2
Totally forgot I had this shirt but found it because of this challenge! Love a good photo bomb. He's trying to put a headband on.