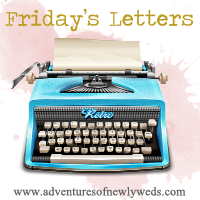 I'm jumping on the Friday's letters bandwagon! I love that she encourages people that link up to visit other bloggers that link up!
Dear Chase,
I know you are getting more teeth and it really hurts. Thanks for spending the whole night in your crib. I love to cuddle with you but don't love when you lay horizontal and kick me
Dear Infant Advil,
Thank you for allowing me to get a few hours of sleep.
Dear Dad,
Thank you for coming back from your 2.5 week motorcycle adventure! We were glad you got to take this trip but we really missed you around here! Especially me because you help me out so much.
Dear A,
Don't know if you will read this but you know I love you so much and my heart is broken for you. Get in touch with me soon so I can give you a big hug.
Dear SoCal friends,
Thanks for having a bunch of babies in the last year! I can't wait to squish them all soon!
Dear former emplyer,
Sorry we lied to you about me being pregnant! I can't wait for you all to meet our little secret that we kept from you. For some reason seeing him run through those halls will be a full circle moment for me.
Last, but certainly not least,
Dear husband,
Thanks for being such a great hubby and daddy! Makes me teary eyed to picture Chase's face when he's giving you a hug or playing with you. Thanks for working so hard so Chase and I can play in the pool all summer!