So excited for our first week of the Click Chicks link up!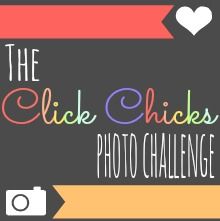 This week is self portrait. I really struggled with this. It was hard to find a place to put my camera that the toddler wouldn't get to and where there was good lighting. I ended up using the window sil by our couch.
I have to tell you this wasn't my favorite picture I took but it was Hubby's favorite.
Next week's challenge is HEARTS! I plan to take pictures of the toddler with hearts for Valentine's day! I doubt there will be any more pictures of me in this challenge!